E-SHARP.COM's attractive and powerful E-Sharpener Control Panel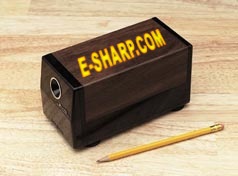 DOES THIS SOUND FAMILIAR?
How many times have you broken your pencil lead or otherwise needed your pencil sharpened? And how many times have you wished for the convenience of a web-based pencil sharpening solution combined with the opportunity to view interesting and informative promotional messages about exciting new products and services?
YOUR WAIT IS OVER...
FREE WEB-BASED PENCIL SHARPENING IS HERE!!!
That's right, E-SHARP® is COMING SOON. Now you can enjoy the benefits of free web-based pencil sharpening and learn about exciting new products and services from the comfort of your own home and the privacy of your own computer.
OK,  HOW MUCH IS THIS GOING TO COST?
That is the BEST and most AMAZING part. The E-SHARP.COM® service is ABSOLUTELY FREE! THAT'S RIGHT, ABSOLUTELY FREE! When you register, we will immediately Fed-ex you an attractive and powerful E-SHARP.COM® E-Sharpener®, ABSOLUTELY FREE, compliments of our advertisers and sponsors.
SO, IT MUST BE COMPLICATED TO USE?
Absolutely not, it couldn't be simpler. To use the revolutionary E-Sharpener, simply plug it into your computer's serial, parallel, or USB port (all three cables provided), install the E-Sharpener drivers and browser plug-ins, and simply surf to E-SHARP.COM.  You'll see the E-Sharpener Control Panel® like the one shown above. Simply insert your pencil into your the E-Sharpener and press the button that says 'Press to Sharpen' to activate your E-Sharpener.
In no time at all you'll be sharpening your pencil using our patented E-sharpening technology right in the comfort of your own home. And best of all, while waiting for your pencil to be sharpened, you'll be informed and entertained by a series of delightful banner ads provided to you free of charge by the wonderful growing family of E-SHARP.COM sponsors and advertisers.
REGISTER NOW!
Watch this space for details on how YOU can take advantage of E-SHARP.COM's exciting, revolutionary, and FREE service, coming soon to a web browser near you!