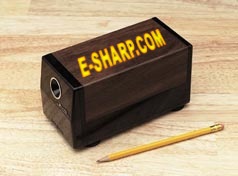 The E-SHARP.COM buzz on Wall Street:
"Genius comes in small packages."
Langford Q. Brimley,
Chief E-Business Analyst,
Brimley and Assoc.
"This will totally revolutionize on-line web based pencil sharpening."
Cameron P. Shanks,
Emerging Technology Editor,
Wall Street Investor Daily
"The strongest business plan and best management team we've seen since Enron. A guaranteed winner."
Roland Cheatham,
Director, Investment Banking,
Arthur-Andersen
E-SHARP.COM is an exciting new concept in consumer online services. We are creating fantastic opportunity for advertisers, sponsors, and especially investors.

We anticipate the market cap for our patented E-SHARP.COM venture to be in the range of $1.4 billion at IPO. The Initial investment required for launch will be approx. $120 million for research and development to perfect the e-sharpener browser plug-in.

After that, consumers will be acquired at the rate of approx. 10,000 per day. Therefore, anticipate a burn rate during rollout of $27,604,200 per month, broken down as follows:

10,000 electric sharpeners per day @ $30/ea. = $9,000,000 per month.

10,000 electric sharpener engineering upgrades for browser interface per day @ $62/ea. = $18,600,000.

Office, secretary, miscellaneous @ $4200/month.

We anticipate a six month rollout, after which we expect to achieve first revenues from banner advertising and sponsorship. Anticipated revenues for the first year are $42,362.

We expect banner ad revenues to reach a level of $42,000,000 per month after the first year, at which time all debt will be retired and the company will be taken public.

If our business plan sounds good to you, we would love to hear from you. Drop us an e-mail, and Judy our bookkeeper will get right back to you.